Generate arduous database queries

in a snap
Say goodbye to the frustration of writing complex SQL queries! Simply import your database structure and type out your desired query in a user-friendly interface.
AI powered
SQL is no longer a barrier
Say goodbye to the frustration and confusion of manual SQL coding.
Query Generator
Effortlessly generate complex SQL queries with ease. The AI-driven generator will take the hassle out of crafting the perfect query.
Query Fixer
Identify and fix errors in your queries. Say goodbye to wasted time trying to debug your SQL code.
Query Explainer
Get a deeper understanding of queries with in-depth explanations of how they work. Learn the logic behind each query and the results it will produce.
Query Formatter
Improve readability and understandability of your queries with the automatic formatting feature. Keep your code clean, clear, and easy to read.
Toolkit
AI-Powered SQL Tools
Generate, fix, explain and format your SQL queries with a user-friendly and intuitive platform. Unlock full potential of your data with advanced AI-driven features.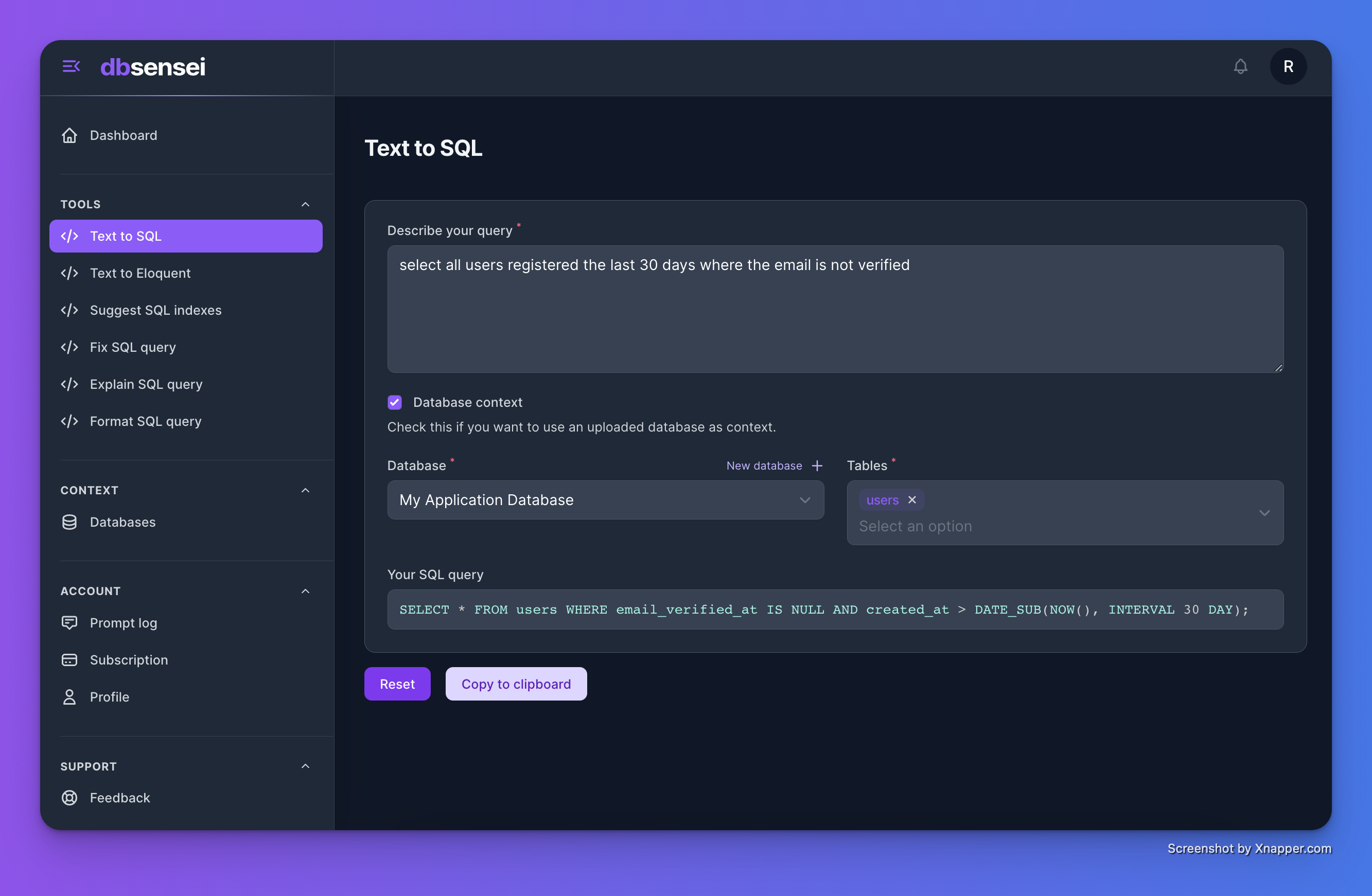 >
All features included
SQL & Eloquent query generation
Database index suggestions
Query fixer
Query explainer
Query formatter
Import unlimited databases
Query and results log
Top-notch support
Starter
$9 /month
The perfect plan if you are getting started with databases.
Try 7 days free
Pro
$19 /month
Go to the next level with the best plan for database professionals.
Try 7 days free
Ultimate
Most value
$29 /month
The ultimate plan and the best price per query.
Try 7 days free
Frequently asked questions
Can't find the answer you're looking for? Reach out to our support team and we'll get back to you in no time.
How does Database Sensei differ from chat GPT3 and OpenAI?

While ChatGPT and GPT-3 may provide satisfactory results for simple queries, they are not optimized for complex SQL scenarios that require a significant amount of context.

In contrast, Database Sensei utilizes a fine-tuned model, incorporates your database context, and utilizes specifically designed prompts to generate the best possible results.

What use cases is Database Sensei designed for?

Database Sensei is a service for developers, database administrators and students who want to get faster results and improve their database skills.

Designed to help with complex SQL scenarios and practice queries and database indexes.

Can I access my results after using the product?

Your prompt results will be saved in your log and can be accessed at any time.

Even after your subscription ends, you will still be able to access them for future reference.

Which specific databases are compatible with Database Sensei?

We have tools to generate, fix, explain and format SQL and Eloquent queries.

Prompts for MySQL and Eloquent (Laravel) give the best results since we trained the tools for both.

Despite this, the tools provide great results with other SQL databases such as PostgreSQL, SQL Server, etc.

Can I try the product for free to decide if it's what I'm looking for?

Of course, there's a 7-day free trial. No credit card required.

Are there any special pricing options available for students?

Yes, we offer a 40% discount for students. Just contact us with an eligibility proof, and we'll get you set up.
Boost your productivity.
Once you incorporate this tool into your arsenal, you'll never want to go back. It will quickly become an essential part of your workflow.
Try 7 days free